Locations & Hours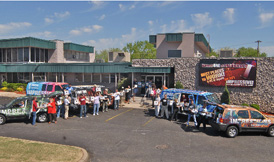 Your next printing solution is just a walk, call or click away! This site includes all of the tools necessary for you to work with us from your office or home, but if you prefer to visit us in person or call, we'd love to see or hear from you. Our address and contact information are located at the bottom of every page of this website. At Impressions - we're here when quality and time matter most!
View Larger Map
2241 W. I-44 Service Rd
Oklahoma City, OK 73112

Phone: 405-524-2800
Fax: 405-524-2823
E-mail: info@impressionsprinting.com
Monday-Thursday 8am-5:30pm, Friday 8am-5pm
Enjoy our convenient business hours or 24-hour, 7 days a week
on-line access thru our "Send a File" option.